When you think of fashion headphones, you're likely to think straight away to Dr Dre's mammoth Beats empire

But a pair of those headphones come at a hefty price. The Austrian based audio boffins at AKG have been hard at work on their latest headphones, and the Y50 is the end product. They look just as smooth as Beats you can buy, and they're priced at half the cost: at £80. Does the low cost come with lower quality though? We strapped on a pair to find out.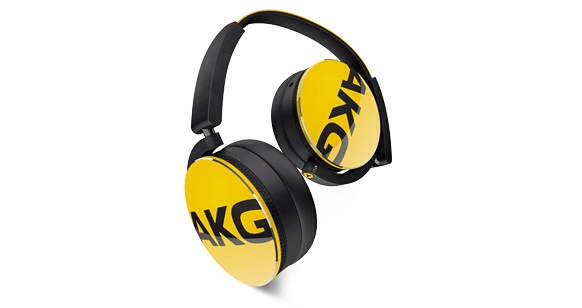 The Good
The AKG Y50 headphones are very loud. Not just in the sound quality, but in the bright and colourful appearance. Ours arrived with bright New York taxi cab yellow ear cups with cool black highlights, and they look like they can easily go toe-to-toe with Dr Dre's Beats in the fashion stakes. These foldable on-ear headphones aren't all about the bright and bold looks though: they pack in some serious bass and treble sound.
The aluminium ear cups house the 40mm drivers that power the Y50s, and they sound phenomenal: you're given a well balanced sound that don't overwhelm in any area, while the bass kicks in with enough punch when it matters. The closed cup design is comfy on the ears, and they block out external noise well enough to leave you alone with top-notch sound quality – and we could even pick out details from songs we never heard before with other headphones. Simply put, you'll be very impressed at such a low priced set.
The Y50s are also easy to cart around as they happily fold up, and they're light to boot too, making it easy to throw them in your bag and you can hardly feel them resting on your head. AKG has handily thrown in an inline microphone with a single button onto the detachable cable for playing, pausing and skipping your tracks on your Iphone or Android phone, plus there's a 6.3mm adapter included for hooking up to even more serious audio gear than just your Iphone.
The Bad
For £80, there's not a lot to dislike about the AKG Y50s. They sound brilliant, they look top-notch (even if the bright yellow isn't for everyone), and they won't break the bank either. Our only nitpick is that we wish the stainless-steel headband had more substance, as it's a little on the thin side and we fear it could break. We also found that after several hours of listening our ears were rather warm due to the leather-style cups, but again, only a minor grievance.
The Bottom Line
The bright yellow, taxi-cab styling might not be for everyone, but the top-notch sound quality definitely should be. Handily, you can grab the Y-50 headphones in black, red or teal if yellow's not your cup of tea, but no matter which colour you choose, for £80, you can't go wrong with these superb on-ear headphones. Who needs Beats by Dre now?