Prince William and Kate Middleton have announced they are expecting their second child.

KATE MIDDLETON AND Prince William are expecting their second child.


Clarence House announced the news this morning, saying that the Queen and members of both families are "delighted" with the news.
In a statement, Clarence House said that the Duchess of Cambridge is being treated by doctors at Kensington Palace for hyperemesis gravidarum, which she also suffered from during her first pregnancy.


The condition is a complication of pregnancy which usually comes with nausea, vomiting and dehydration.
The Duchess was also forced to announce her first pregnancy early after she was admitted to hospital to be treated for hyperemesis gravidarum. She was between six and eight weeks pregnant at the time, and Prince George was born 33 weeks later. If history repeats itself, her second child will be born on April 27.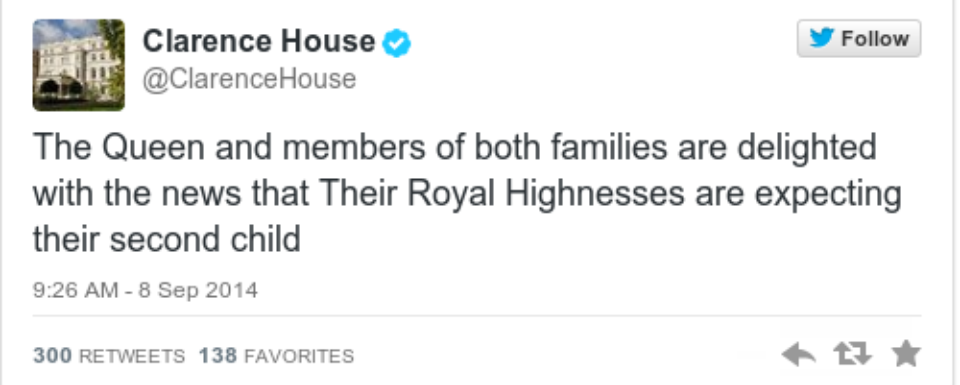 Just as they had done with their engagement and the Duchess's first pregnancy, the couple managed to keep their announcement a secret until they chose to go public, though they had made no secret of the fact they wanted at least two children. In April the Duke met a New Zealander who had made a lace shawl for Prince George, and told her: "You might have to make another one soon."
Prime minister David Cameron was among the politicians welcoming the news yesterday, saying ahead of his statement on the Nato summit: "On behalf of the whole country, I'm sure the whole House will want to join me in congratulating them on this fantastic news and wishing them well in the months ahead."