Man dead as 35 illegals found in a container at Tilbury Docks Essex.

A Homicide inquiry has been launched as dozens of desperate stowaways, all from the Indian subcontinent, are taken to hospital after being found in a shipping container in Essex.
The group, presumed to be illegal immigrants, were found when workers heard "screaming and banging" from inside a container as the ship was being unloaded at 6.37am, said Supt Trevor Roe of Essex Police.


Inside they discovered "adults and children of both genders" who were all suffering from the effects of confinement. Seven ambulances were immediately called to the scene. In addition, Basildon and Thurrock Hospital dispatched two rapid response cars, a patient transport services vehicle and a "hazardous area response team".
One man was pronounced dead on the scene and all of the remaining 34 people, including some children, were taken to three different hospitals for emergency treatment. An East of England Ambulance spokesman said they were suffering from "severe dehydration and hypothermia".
Supt Roe added that the stowaways were from the "Indian sub-continent" and the death of the man meant that a "homicide investigation" was now underway. The UK Borders Agency had also been contacted because of the "immigration issues" raised by the discovery of the group. The other containers on the ship were in the process of being searched. "Our immediate priority is to ensure there are no other containers on that ship with other persons," said Supt Roe.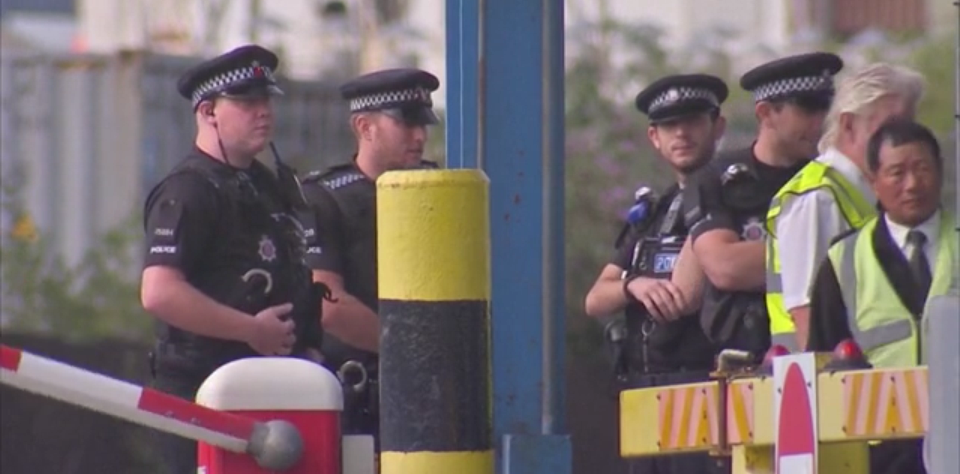 The P&O freight ship, Nordstream, left the port of Zeebrugge in Belgium at 10pm on Friday and arrived at Tilbury at 6am on Saturday after an eight-hour crossing. The stowaways were found inside one of the ship's 64 steel containers, which are 40ft long and almost airtight when sealed.


A "decontamination zone" was set up around the area where the people were found at Tilbury. However, a spokesperson for Public Health England said there was no sign of any risk from infectious diseases like Ebola. "If it was Ebola, health care professionals are so alert at the moment to signs and symptoms that should there have been anyone who was showing symptoms we would have been notified immediately," she said. "I think we can be confident that we are not dealing with that.